Thanksgiving Day
October, 1621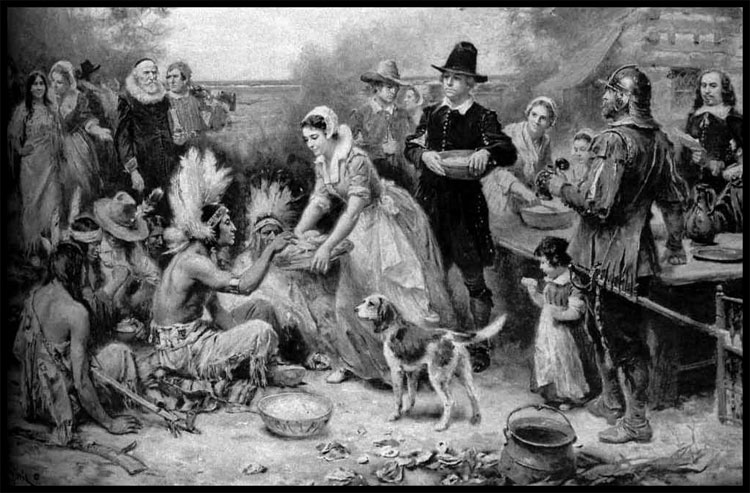 "And thou shalt bestow that money for whatsoever thy soul lusteth after, for oxen, or for sheep, or for wine, or for strong drink, or for whatsoever thy soul desireth: and thou shalt eat there before the LORD thy God, and thou shalt rejoice, thou, and thine household."
Deuteronomy 14:26
"Because thou servedst not the LORD thy God with joyfulness, and with gladness of heart, for the abundance of all things; Therefore shalt thou serve thine enemies which the LORD shall send against thee, in hunger, and in thirst, and in nakedness, and in want of all things: and he shall put a yoke of iron upon thy neck, until he have destroyed thee."
Deuteronomy 28:46-47
God Deserves and Demands Thanksgiving
Every aspect of your being, possessions, and pleasures is by the kindness of God (Jas 1:17; Acts 14:17). He is the Potter, and you are the clay (Is 45:9-10; Rom 9:21-24). You have no right to boast about anything, for everything you have was given to you (I Cor 4:7). Therefore, He has the right to threaten the severest punishments, if you are not thankful for all things (Deut 28:46-47).
It is God's will for all men to thank Him for everything (I Thess 5:18; Eph 5:20; Col 3:17). He delights in the thanksgiving of His saints (Ps 34:1; 92:1; Heb 13:15). But the wicked never think of God (Ps 10:4). Thanksgiving Day to them is for avoiding work, gluttony with turkey, and football. Therefore, He turns them over to reprobate minds to abuse themselves with sodomy (Rom 1:20-27).
Christians Can Celebrate Thanksgiving Day
Thanksgiving feasting has a Bible basis (Deut 14:26; II Sam 6:18-19). This is in stark contrast to the pagan and papal origins and customs of Halloween, Christmas, Valentine's Day, and Easter, which God has commanded His people to avoid with all their might (Deut 12:29-32; Jer 10:1-5; II Cor 6:14-17; Rev 18:4). There are no pagan or papal idolatrous traditions in Thanksgiving Day.
Our Lord visited a national celebration, being in the temple in Jerusalem during the Feast of Dedication (John 10:22-23). The feast of Passover was in the spring, Pentecost 50 days later, and Tabernacles in the fall. But Judas Maccabaeus declared an annual December feast in 164 B.C. after rededicating the temple from the profanations of Antiochus Epiphanes in 167 B.C.
Americans Must Have a Thanksgiving Day
America is the most blessed nation on earth, so she must have a national holiday to thank the God of heaven for His many blessings. America fulfills the grand descriptions of God's blessing on nations more than any other nation by far (Deut 4:5-8; Ps 33:12; 144:11-15; 147:19-20; Prov 8:12-21; Mal 1:5; 3:12). He raised this nation from a few persecuted outcasts in a wilderness inhabited by savages to the world's superpower by every measure in just 300 years!
Why is America so great? Adam Smith (1723-1790) missed it entirely with his famous book The Wealth of Nations written in 1776. America is great because she allowed, promoted, and protected the preaching of God's words far more than other nation. God has exalted His word, and it brings prosperity (Deut 29:9; 32:46-67; Josh 1:6-9; I Kgs 2:3; Ps 1:1-3; 19:7-11). Furthermore, the 300 million citizens, though mostly pagan, include much of God's chosen remnant.
Christian Americans Are the Most Blessed
God's benevolent blessings on America as a nation are great in their own right; but Christian Americans have incredible spiritual blessings on top of those! Christian Americans must offer the greatest praise, thanksgiving, and worship, lest they be guilty of a heinous sin. They are truly blessed (I Tim 4:10)! No other people, including Israel under David or Solomon, ever had such a combination of spiritual and national blessings of peace, pleasure, privilege, and prosperity.
But far above all other blessings is the gift of eternal life through Jesus Christ, to which the elect were chosen and predestinated before the world began. Behold, what manner of love the Father has bestowed upon us, that we should be called the sons of God (I John 3:1; Eph 1:3-12)! It is this unspeakable gift that our beloved brother Paul declared should call forth a constant stream of thanksgiving to God (II Thess 2:13; II Cor 9:15). You are blessed! Give thanks!
But God has not only saved us by His electing and predestinating grace, He has also sent us the truth of the gospel (II Thess 2:14). We have His inspired words in the English tongue as our heritage, which King James Bible God has blessed above any other version of the Scriptures (Ps 119:14,111,127,162). And He ordained special men with beautiful feet to preach this word of salvation to us (Job 33:23-24; Ps 68:11,18; Acts 8:30-31; Rom 10:13-17; I Tim 3:16).
Do You Know How to Give Thanks?
It is not enough to be thankful. Having a contented and thankful heart is not giving thanks. True thanksgiving is opening your mouth and voicing your thankfulness, praise, and worship to God. God created your tongue to give Him glory, which is why He named your tongue your glory (Ps 16:9; 30:12; 57:8; 108:1). Take words right now and give Him the calves of your lips (Hos 14:1-3).
David's Psalms are the primary praise and thanksgiving section of the Bible (Jas 5:13). Do you have a favorite psalm of thanksgiving from these inspired poems? Is it Psalm 18, which God ordained to be repeated from II Samuel 22? Or is it Psalm 100, which has been sung to the tune of Old One-Hundredth for 500 years? Or is it Psalm 136 with its divinely inspired and holy repetitions? Or is Psalm 30? 48? 65? 98? 103? 107? 135? 145? 146? 147? 148? 149? 150?
Lift up your voice and praise His great and glorious name for the things He has done for you (I Sam 12:24; Mark 5:19)! Speak to others of God's great goodness in His dealings toward this nation, toward your family, toward your church, and toward your soul (Mal 3:16-18). If you hesitate, or fear the thoughts of others, then you are not truly thankful (Ps 119:46). If you spare words, lest you be thought fanatical, then you are not truly thankful! Give God the glory!
See Also:
The decline of a nation as shown by the Thanksgiving Proclamations of 1777 and 2005. If you think America is still a Christian nation, because her pledge has "under God" and her money has "In God We Trust," you are sadly mistaken. Check out this brief document and compare our present government to that of 228 years ago. David said, "The wicked shall be turned into hell, and all the nations that forget God" (Ps 9:17).
God is jealous. He knew religious customs of other nations were attractive, so He warned His people strictly to reject all of them. He would not accept any pagan religious traditions, even if done to Him (Deut 12:1-4,29-31). He demands perfect obedience, without turning to the right or the left, without adding or taking away (Deut 5:32; 12:32). He expects you to come out and be separate (II Cor 6:14-18).